CBC News: $1M donation could mean new home for non-profit supporting Winnipeggers with intellectual disabilities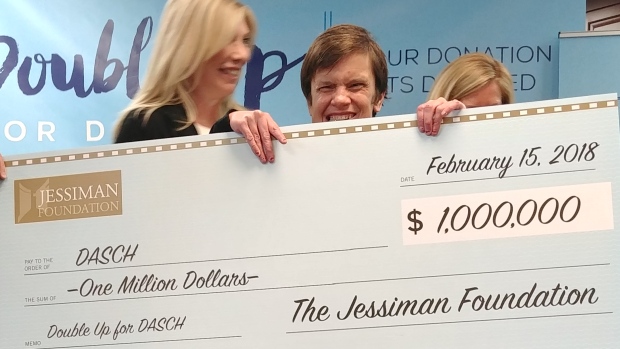 A Winnipeg non-profit group that provides support for people with intellectual disabilities just received a million-dollar boost.
DASCH (Direct Action in Support of Community Homes) announced Thursday it has received a legacy gift of $1 million from the Jessiman Foundation.
"This is a very special day for DASCH residents, families and our entire organization," Karen Fonseth, CEO of DASCH, said at special event to kick off a fundraising campaign to raise donations for capital and programing projects.
It's not the first time the Jessiman family has stepped up for the organization. Duncan and Judy Jessiman, founders of the Jessiman Foundation, provided a donation back in the early 1990s that launched an endowment fund.
"Our association with DASCH goes back to the days of a little organization with one home and a small group of people with an idea that they could make life dramatically better for people living with intellectual disabilities," said Peter Jessiman, the foundation's director.
"Today, that organization is much bigger and is improving the lives of hundreds of people each day. DASCH has set the gold standard for efficient, effective, and compassionate care in this area and is nationally respected as a model to emulate."
The Jessiman donation will be used to double up on all other donations made to the organization during its fundraising campaign, Fonseth said.
The money is being considered for many projects, including a new head office for DASCH.
"Currently, we operate out of more than 57 locations, which can present operational challenges," Fonseth said.
"By having our offices, training initiatives and the ability to offer community-based services in one location, we would be able to significantly improve how we serve the DASCH community."
Donors can also request their funds go toward other things like down payments on new community homes, adaptive equipment, sensory rooms, employment training and program sponsorships.